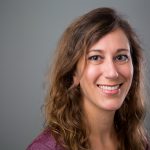 Erin Hambrick, Ph.D.
Assistant Professor of Psychology
University of Missouri – Kansas City
1.      What is your current occupation?
Assistant Professor in the Department of Psychology at the University of Missouri – Kansas City (UMKC)
2.      What do you do? / Describe your role
I am a scientist-practitioner studying effective interventions for trauma-exposed youth. In my primary appointment at UMKC, I have traditional tenure-track responsibilities.  These include teaching psychology courses for our PhD program in clinical psychology as well as undergraduate psychology courses, such as a writing-intensive course on trauma and resilience in children. I also direct labPANDA (Pediatric Abuse, Neglect, Disaster, and Adversity) which focuses on evaluating how interventions for trauma-exposed youth perform in real-world settings, and ways to sequence interventions in developmentally-informed ways.  As the Director of Research at the ChildTrauma Academy, a non-profit working to improve the lives of trauma-exposed youth, I bring together community-based intervention researchers in the field of child trauma to help increase our ability to answer questions about which youth are improving, via which interventions, on a larger scale. In my clinical practice, I work with a handful of maltreated youth and have found that this work greatly motivates my research.
3.      How did you learn about your job?
I found out about the position at UMKC via the APA job site. UMKC wasn't specifically soliciting a child psychologist, and I did not see their ad on the Div53 listserv or other listservs that I frequent.  It is important to do a wide job search, and to not expect that all potentially relevant opportunities will easily become known to you.
4.      How have you navigated your career? As in, what was the process that you took to get to your current position?
Following internship, I decided to do a two-year postdoc to ensure I had time to get both clinical and research training.  I prioritized publications and grant writing during Year 1 of the postdoc, and applied for jobs in year two. Going on the tenure-track job search was intimidating, but casting a wide net of applications was the key for me, as well as reaching out to everyone in my professional network to tell them I was searching. You never know who will know of a job opportunity, or who will be able to put your name forth to a search committee.
5. Are you a member of Div53?  If so, how has being a member of Div53 been helpful to you?
I have been a member of Div53 since graduate school. It's been invaluable. The listserv has been a great way to keep the pulse on important issues in the field, as have the Division's journals.  I have attended one of the conferences affiliated with Div53, the National Conference in Clinical Child and Adolescent Psychology, every other year since 2010 and have found the learning opportunities top-notch, as well as the networking moments (no matter how awkward they have felt!).
6.      What is the most enjoyable aspect of your job? Why?
I really enjoy the flexibility that I have to think big about problems facing our nation's youth. There are … a lot of them, and even though keeping up with research, teaching and clinical work is more than daunting, it's a privilege to be a clinical child psychologist and to have the opportunity to use science to address the problems that I care about.
7.      What is a tough aspect of your job?  How have you handled it?
Saying no. (I'm still learning how to handle it.) As clinical child psychologists, it's easy to want to be involved in every worthy initiative.  My current strategy? I took it from Kerry Ann Rockquemore from the National Center for Faculty Development & Diversity, who advised creating a "No" committee.  It has really helped. Hearing resounding no's (and even yes's) from others in regard to the requests that come your way can be helpful affirmation that you're on the right track with your priorities, and to not look back when you need to say no.
8.      What is one thing that you wish you had known as a graduate student or post-doc/early career psychologist that would have helped you navigate your career?
It's really important to know people. Not in a "just-say-hi" kind of way, but in a "have real collaborations with those in your field" kind of way. Having connections can be the mechanism by which smart, hardworking people are propelled into worthy careers. How can you do this? Join divisions. Sign up for task forces. Volunteer to be a student rep. Ask someone to collaborate on a symposium with you. Ask insightful questions during symposia, or ask people to tell you more about their research. I dislike "networking," but have found that if I can make the connection about work, it feels more natural and is more beneficial.
9.      What advice would you give to students (including undergrads and grads) who may be interested in doing what you do?
Keep showing up, keep your research rigorous, and don't ever restrict your job search.