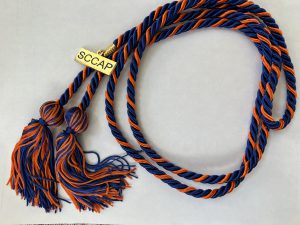 SCCAP is proud when our members reach a graduation milestone whether it is an undergraduate, master's, doctoral, or professional degree.   As a gift to honor your achievement, the SCCAP Board of Directors is offering special SCCAP Graduation Cords to serve as a reminder that we value your membership and hope that you will continue on as a member to further your professional identity.
We hope that you will think of SCCAP as your professional home and help us with our mission as we strive to enhance the science and practice of clinical child and adolescent psychology by supporting its membership, and the field's workforce, in the domains of (a) research; (b) evidence-based practice; (c) training and career development; (d) diversity, equity, and inclusion; and (e) dissemination
Please request the cords at least a month before you need them.
The content is locked to SCCAP Members Only
Login To Unlock and Access Content.