SCCAP acknowledges that the success of the society and the field of psychology is dependent upon the diversity of individuals stepping up to fill leadership roles.  In order to promote leadership development and potential future leaders within SCCAP, its Diversity Committee created the bi-annual Leadership Education to Advance Diversity (LEAD) Institute.
The goal of the SCCAP Leadership Education to Advance Diversity (LEAD) Institute is to provide professional development, networking, and leadership skills for graduate students and early career professionals (ECP's). Graduate students and ECP's who are members of Division 53 (SCCAP) are eligible to apply. The full-day leadership institute offers LEAD participants (also known as LEAD fellows) to attend sessions with invited guest speakers that address topics such as: leadership in the community and profession, cultural sensitivity in practice, tips on publishing, and learning skills in media psychology.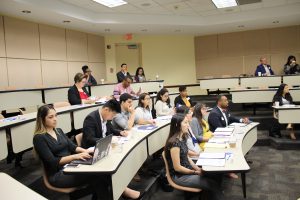 LEAD is intended to provide graduate students and ECP's from diverse groups (e.g., ethnic and racial, sexual and gender diversity, individuals with a disability) the opportunity to gain leadership and professional skills, and increase their professional network. LEAD fellows also have the opportunity to be on a special email distribution list that announces educational, leadership, and award opportunities.  Participation in LEAD also allows for eligible participants to earn Continuing Education Credits.  LEAD will also produce periodic virtual learning opportunities at no cost to participants.
If the LEAD Institute is held virtually due to public health concerns and travel is not required, upon completion of the program LEAD Fellows will be given $300 to put toward participation in other SCCAP sponsored conferences or educational opportunities.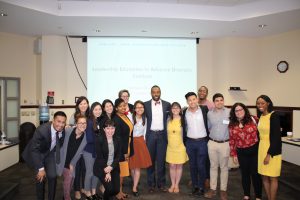 Eligibility Criteria for LEAD Fellows:
This institute is open to graduate students from APA, PCSAS, or CPA-accredited programs, or from schools that have officially entered into the accreditation process, OR ECP's (members within 10-years of earning their doctoral degree).
Applicants must be a member of SCCAP. SCCAP is free to join for students and post-docs (https://sccap53.org/join/).
Fellows that are selected will also be required to demonstrate their involvement in leadership activities within 1-year after this program (e.g., serving as a member of a SCCAP committee).
THE APPLICATION PORTAL FOR 2023 IS  CLOSED
Applications for 2023 LEAD will be accepted August 1- November 4th, 2022 11:59pm EST.  
Notifications will be sent by Jan 13, 2023.
If you have questions about eligibility criteria or other parts of the application process, please contact sccap@sccap53.org.
*Applications will be evaluated based on the applicant's CV and their description of the benefits of being selected as a LEAD fellow.
Erlanger Turner, PhD
LEAD Institute, Chair
SCCAP encourages and welcomes applicants with diverse backgrounds with respect to age, disability, gender, geography, nationality, race, religion, ethnicity, and sexual orientation.
The content is locked to SCCAP Members Only
Login To Unlock and Access Content.
Congratulations to the 2021 LEAD Institute Fellows
| | |
| --- | --- |
| Allegra Anderson | Vanderbilt University |
| Keisha April, PhD | New York University |
| Tara Benninger, PhD | Nationwide Children's Hospital, The Ohio State University |
| Tahlia Bragg | Fielding Graduate University |
| Patricia Carreño | Uniformed Services University of the Health Sciences |
| Ashley Castro | DePaul University |
| Wendy Chu | University of South Carolina |
| Jacqueline Duong | Florida International University |
| Rosa Espinoza, PsyD | University of Southern California |
| Jennifer Gamarra | University of California, Los Angeles |
| Kalani Gates | Western Michigan University |
| Shweta Ghosh, PhD | Palo Alto University |
| Sotonye  Hart | Wheaton College |
| Natalie Hong | Florida International University |
| Renee Jones | Texas A & M University |
| Haleh Kanani | University of Denver |
| Gabriela Lelakowska | Texas Tech University |
| Sabrina Liu, PhD | University of California Irvine Conte Center and Chapman University |
| James Lodovic | University of Denver |
| Andrea Ng | University of Hawai'i, at Manoa |
| Harlee Onovbiona | University of Arkansas |
| Amanda Parks | Virginia Commonwealth University |
| Meera Patel | University of Memphis |
| Zabin Patel | University of Miami |
| Neha Penmetsa | William James College |
| Maddy Pontius | University of Denver |
| Amrita Ramakrishnan | New York University |
| Ashley Ramclam | University of Houston |
| Rebecca Revilla | The University of Alabama |
| Rachel Roberts | Gallaudet University |
| Raquel Rose | New York university |
| Ericka Rutledge, PhD | Northern Illinois University |
| Laura Saldana | DePaul University |
| Kimberly Smoots | University of Houston |
| Keaton Somerville | Kent State University |
| Aksheya Sridhar | Michigan State University |
| Ahyoung Tae | Alliant International University |
| Karen Tang | Dalhousie University |
| Hardian Thamrin | Arizona State University Tempe |
| Kathy Trang, PhD | New York University |
| Mariana  Vazquez | University of Houston |
| Wynette Williams-Kirkwood | Jackson State University |
| Tat Shing Yeung | Northeastern University |
| Alexandra Zax | University of Kansas |