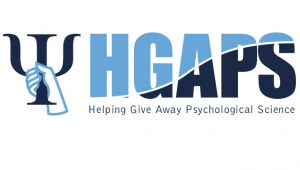 The Helping Give Away Psychological Science (HGAPS) Club System is an initiative started by Dr. Eric Youngstrom, president (2016 & 2019) of the Society of Clinical Child & Adolescent Psychology, and Dr. Mian-Li Ong, at the time a student representative of the Society. HGAPS works in small teams to improve the information about psychology on Wikipedia and in the community. We aim to produce resources at the level of a college textbook on the topic and help clinicians, clients, and educators each find high quality resources quickly. This project has been funded by grants from the Society of Clinical Child & Adolescent Psychology (SCCAP), Association for Psychological Science (APS), Society for a Science of Clinical Psychology (SSCP), and American Psychological Association (APA).
Members can participate in regular meetings, focused projects responding to particular needs or events, and spring events such as a 5K walk/run for charity, as well as edit Wikipedia pages on psychology and related topics. There are also opportunities to present information at regional and national conferences.
Click here to go to the HGAPS website.
To learn more about the Wikimedia Foundation and its sister projects, including Wikipedia and Wikiversity, click here.
Goals
For 2019 – 2020, the goals of HGAPS are to:
    Create new pages focusing on evidence-based assessment and public interests, such as 13 Reasons Why, public outreach, and infographics
    Maintain pages that HGAPS has already created
    Establish a broader presence at the University of North Carolina at Chapel Hill
    Expand HGAPS by adding chapters at other universities
    Collaborate with local organizations to facilitate the growth and dissemination of psychological science.
    Discover more effective mediums through which to deliver scholarly psychological information to people.
Executive Board Members
Faculty Advisor: Eric A. Youngstrom, Ph.D.
For current members, please visit the website here
Branches
The inaugural club was founded by Dr. Eric Youngstrom, president-elect (and past president) of the Society of Clinical Child & Adolescent Psychology.
HGAPS is structured into the following branches. Each branch is responsible for distinct roles within the club, and is championed by a long-term member who is experienced in that area.
Evidence Based Assessment
This branch is responsible for creating Wikipedia and Wikiversity pages dedicated to evidence based assessment and disseminating said information out to the general public and to clinicians. This branch will essentially create an online catalogue of information on the "Best of the Free" assessments.
13 Reasons Why
The 13 Reasons Why team is currently developing resources for students and clinicians relating to the show/book. This includes resources like character vignettes, which has helpful content relating to assessment and treatment of mental disorders that the characters seem to be dealing with. We also create infographics to educate people on ways they could help someone like the vignette characters.
Screening Center
Team Screening Center specializes in creating online versions of psychological assessments and making them available to clinicians, graduate students, and the public. Using platforms such as Qualtrics, assessments once limited to paper-scoring are now available in online testing formats that guide those in need to helpful support materials.
Team Outreach
Teach Outreach focuses on sharing HGAPS's endeavors to the community by using various social media platforms and creating distributable media. The team also coordinates with students interested in starting new HGAPS chapters as well as other service and mental health organizations on campus.
Click here to learn more about the HGAPS Club. To start a new chapter at your university, email us at HGAPSClub@gmail.com.
Follow us on Social Media!
Twitter: www.twitter.com/_HGAPS
Facebook: www.facebook.com/HGAPS
Instagram: www.instagram.com/hgapsorganization
LinkedIn: www.LinkedIn.com/groups/12185454/