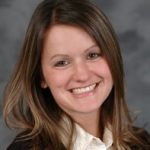 Ashley Anderson, Psy.D.
Licensed Clinical Psychologist
Insightful Solutions
What is your current occupation?
Licensed Clinical Psychologist, Insightful Solutions
What do you do? / Describe your role
I am a Licensed Clinical Psychologist at a group practice called Insightful Solutions. I provide individual psychotherapy services to children, adolescents, and young adults. I also conduct psychological testing to people of all ages. My areas of expertise include eating disorders, depression, anxiety, grief and loss, and self-harming behaviors.
How did you learn about your job?
I found out about group practice work through networking. I was fortunate enough to conduct psychometrician work at a group practice towards the end of my graduate school program. From that experience, I was able to connect with those in the field and find an opening at a group practice.
How have you navigated your career? As in, what was the process that you took to get to your current position?
During graduate school, I tried to gain experience outside of practicums and internship. I worked at a residential treatment center and conducted psychometrician work. Those positions gave me experience in the field and areas I wanted to work in. I believe this helped me gain employment once I graduated.
Are you a member of Div53?  If so, how has being a member of Div53 been helpful to you?
Yes, I think the listserv is super beneficial. It allows you to connect with colleagues from different areas, ask questions, seek out referrals, and gain information/resources.
What is the most enjoyable aspect of your job? Why?
I enjoy the flexibility, the challenging cases, and that not every day is the same. I like variety. I am able to collaborate with physicians, psychiatrists, dietitians, treatment centers, schools, and therapists.
What is a tough aspect of your job?  How have you handled it?
I think the work life balance is always the hardest. I enjoy working and spending time with family. I try to be as efficient as I can with my time, which allows me to focus on what's in front of me.
What is one thing that you wish you had known as a graduate student or post-doc/early career psychologist that would have helped you navigate your career?
I think information on joining practices or even starting your own practice would be beneficial to learn ahead of time. In addition, it is important to know how to market yourself and how to make contacts.
What advice would you give to students (including undergrads and grads) who may be interested in doing what you do?
Don't be afraid to ask questions. I have reached out to people in the field, or on listservs, to ask questions about any topic related to psychology.