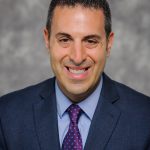 Daniel M. Bagner, Ph.D., ABPP
Associate Professor of Psychology
Florida International University
What is your current occupation?
Associate Professor of Psychology at Florida International University
What do you do? / Describe your role
I primarily conduct clinical research (federally funded) and mentor doctoral students in clinical science.
How did you learn about your job?
Division 53 listserv and word-of-mouth.
How have you navigated your career? As in, what was the process that you took to get to your current position?
After receiving my PhD, I completed a postdoctoral fellowship, which provided me with important foundations in clinical research for my future academic career.
Are you a member of Div53?  If so, how has being a member of Div53 been helpful to you?
Yes, it has been very helpful networking with other professionals and receiving updates (e.g., job announcements) on the listserv.
What is the most enjoyable aspect of your job? Why?
The best part of my job is mentoring because I enjoy teaching my doctoral students and simultaneously learning from them. I also treat my students as my junior colleagues, which results in collaborative relationships.
What is a tough aspect of your job?  How have you handled it?
Dealing with politics inherent in an academic institution has been difficult at times. I handled it primarily by focusing on my work.
What is one thing that you wish you had known as a graduate student or post-doc/early career psychologist that would have helped you navigate your career?
I wish I would have learned more from others about how best to balance work and family – I'm still learning!
What advice would you give to students (including undergrads and grads) who may be interested in doing what you do?
Enjoy the journey of learning without getting too caught up on the destination.