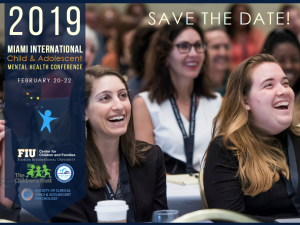 SCCAP IS PROUD TO CO-SPONSOR THE MICAMH CONFERENCE
The Miami International Child and Adolescent Mental Health (MICAMH) Conference (formerly known as the Niagara-in-Miami Conference) is a leading interdisciplinary conference presenting state-of-the-art, evidence-based prevention and treatments for mental health and educational problems in children and adolescents. The annual conference is hosted by Florida International University, and is co-sponsored by the Society of Clinical Child and Adolescent Psychology (SCCAP; APA Division 53) and by the Children's Trust.
The 2019 conference will be held Feb 20th-22nd, 2019 in Miami.
There is a fantastic lineup of world-renowned keynote speakers and workshop presenters for 2019. Up to 18 hours of CE will be available.
Here are some links to short videos about the past couple of MICAMH conferences:
https://www.youtube.com/watch?v=JMFolw9Nbng&t=22s
https://www.youtube.com/watch?v=6abvhdS8Wbg&t=38s
More information on the 2019 event, including registration details, speaker information, and calls for poster submissions, will be available shortly.
SCCAP members receive a discount on the conference registration.
Save the Date!