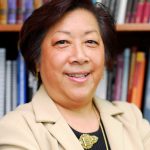 Jean Lau Chin for APA President
Candidate Statements
Candidate Statement to SCCAP—Jean Lau Chin for APA President
Leadership for Change to Promote Leadership for Good is what we need in today's volatile and uncertain environment.  Yet, "fake news" has created doubt about what truth or goodness is.  Scandals of lust and profit have eroded our trust.  Deep silos of knowledge and perspectives divide us.  Rapid change and technology leave us confused. This has caused us to look inward and to fractionate.  We need to look outward, to rebuild our trust and commitment to truth—to Promote Integration amidst Differences—Unity in our Diversity if we are to move forward together.
 What do you see as the most pressing issues affecting children's mental health?
Violence and Racism are two of the most pressing issues today.  While they are by no means, exclusive to children, their consequences on children's mental health are lifelong and devastating.  Violence and racism injures all—children will model the behaviors they learn; they do damage to self-esteem and development.  We know that cycles of trauma and abuse experienced through violence often predispose children to recreating domestic violence or child abuse in their adult lives.  Racism creates a climate of exclusion and inequity.  For children, it is damaging to self-esteem irrespective of whether they are the privileged or the victims.  Long-term, racism alters one's sense of fairness and justice, and promotes learned helplessness and/or anger toward the oppressed.  Our goals must be to reduce or eliminate it at its core.
Health and Mental Health Care access and availability is the third pressing issue.  Children represent the future, and ensuring their healthy growth and development ought to be our prime concern.  Today, we must propose that children's health is more than the absence of disease–It is the extent to which children are able to develop their potential and develop the capacities that allow them to live, learn, and grow successfully.  This means considering the behavioral as well as the physical influences of health.  This integrated health care model is central to children's well-being, yet, often overlooked or ignored in our health care service delivery system and reimbursement. The emotional, social and physical development of young children has a direct effect on their overall development and on the adult they will become. That is why we need to invest in their health to maximize their future well-being.
How can APA increase children's access to evidence-based practice in mental health care? (practice)
APA can reinforce and reinstate the Policy Statement on Evidence-Based Practice in Psychology (EBPP) approved by the APA Council of Representatives in August, 2005.  Now 13 years after its approval, scientists and practitioners have renewed their dissension with one another over what is good science with scientists arguing for a narrow use of Randomized Controlled Trial studies as the primary source of evidence while practitioners argue for a broader definition of methods and studies considered to be "good evidence".  Children are often not included in clinical trial studies; yet, they will often introduce variation because of their developmental status.
Yet, the EBPP report argues that "psychological services are most effective when responsive to the patient's specific problems, strengths, personality, sociocultural context, and preferences….important patient characteristics to consider in forming and maintaining a treatment relationship and in implementing specific interventions include….b) chronological age, developmental status, developmental history, and life stage; c) sociocultural and familial factors…."  We need to consider these factors, central to children needs, if we are to increase access to evidence-based practice in mental health care.  Moreover, "some effective treatments involve interventions directed toward others in the patient's environment, such as parents, teachers, and caregivers"—a factor less relevant to adults.
Since children are often brought to treatment by their parents, our first approach must be to educate parents to identify signs and sources of distress in children, and to reach out to parents to promote access.  Adolescents need to be treated differently.  As consumers of information on social media, we need to reach adolescents more directly given their greater autonomy from parents, but greater influence from their peers.  Therefore, educational campaigns can target them directly, within schools, via their peers, or at places where they are likely to congregate (malls), urging them to speak up and seek help when needed.
How can APA advance the education and training of clinical child and adolescent psychologists? (education)
Most clinical training programs provide very little training on children or adolescents.  Yet, the importance of development is central to our understanding of psychopathology.  Moreover, the average clinician often sees the child as a little adult—expecting them to talk about issues the way adults do, just simpler.  APA can advance the education and training of clinical child and adolescent psychologists using a two pronged approach.  Generic education and training in clinical must be expanded to include developmental and child issues, not as one course as it typically is, but embedded into the curriculum and field placement sites.  Secondly, APA can advance child and adolescent psychology as specialties or subspecialties so it can receive the comprehensive coverage it deserves for those who choosing to work with children and adolescents.
How can APA promote the science of clinical child and adolescent psychology? (science)
We often have a siloed approach to science and limit our methods and models to single "best practices" without recognizing the variation inherent in working with children and adolescents that require modifications as a function of chronological age, developmental status and stages.  In practice, we tend to privilege direct care models as better than indirect care such as work with families and communities—we call it casework.  This is ingrained in our intake and diagnostic processes in which we have an identified patient rather than a systems approach common to family therapy.  To promote the science, we need not to privilege ways of knowing, and open ourselves to the differences that children pose, not as an aberration, but as part of a developmental process.